Dance Classes in Barry, Vale of Glamorgan
What to wear for class?
Shoes – Dance shoes or comfortable shoes with soft soles that are secure to the feet, trainers tend to stick to the floor.  No flipflops.
Clothes – Anything comfortable giving freedom of movement.
Payment in brief
You will pay cash weekly for your first 6 classes, at that point if you decide you want to continue you will then initially pay 6 weeks upfront (£42 per person) putting you 2 months in advance, please note I have deducted one of my holidays and two Bank holidays making it 6 weeks upfront rather than two whole months. Thereafter you will pay monthly which is £28 per month on a 4 week month (£35 on a 5 week month)
Our Venue
Barry Yacht Club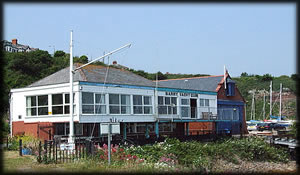 Dance classes are held in Barry Yacht Club which is a very friendly and welcoming club with  panoramic views of the Bristol Channel. The dance studio itself has a sea view as well as a licensed bar, excellent facilities and car parking.
Pier Head Docks, Barry Island, CF62 5QS
Once on the Causeway to Barry Island, take first left under railway bridge then turn right at the next roundabout onto Plymouth Road. At top of Plymouth Road and next to  Clive Place follow the sign to 'RNLI, ABP Pilot Station' follow this road round to the right and you will see the sign for Barry Yacht Club.
01446 735511 Barry Yacht Club Bar