Christmas Ball 2016
The highlight of our dancing year, this year we had the pleasure of an exhibition dance by Lloyd Perry and Rebecca Scott who are Under 19 World Latin Champions and of course Malcolm the Maestro. It was a great night – always is. Many thanks for coming along and making it a fab night. Our charity raffle raised £168 in aid of Vale for Africa, thanks to Gareth and Jenny Kiddie.
Halloween Dance 2016
Always a hoot! Thanks to Malcolm the Maestro for his music and to all of you who came. Particular thanks to Wendy Barnett, who was dressed as Cruella De Ville, for her interpretation of the Paso Doble and for not kidnapping my puppy, Saffron. Great night!
Torquay Dance Weekend 2016
We had the best time, lovely hotel – thanks to Heather and the staff at The Victoria Hotel, Torquay. We were blessed with good weather and of course lots of dancing, the Charleston was great fun, thanks for making it a wonderful weekend everyone and Malcolm for his fab music.
Summer Dance 2016
Our Summer dance took place at Barry Yacht Club on Friday 2nd September, this is always a fun night with brilliant fancy dress and a lot of fun with learning the Flamenco
Medal test 2016
Another great success for the dance school, congratulations everyone for your hard work. Very well deserved results
Christmas Ball 2015
This will be a night to remember, what a great evening of dance with music supplied by the talented Rob (Bobby Bee) & Linda Barnard. World Ballroom Champions – Warren & Kristi Boyce, gave us a dazzling dance display which I personally had been looking forward to for a long time. We raised £185 for the Cancer Support Charity 'Tenovus' well done and a huge thank you for donating raffle prizes and buying raffle tickets. Thank you everyone.
Halloween Dance 2015
Well done to Steve Gould who won best fancy dress – he came as Beetlejuice! Thank you also to Kevin Bunclark who gave us a night to remember with his daft antics and numerous costume changes  – oh and his great music! I am so glad that the Mayfair Quickstep to 'Thriller' worked!!
Symonds Yat Dance Weekend 2015
A fabulous weekend was enjoyed by all!! Thanks to Malcolm Roles for the superb music and to the staff of The Paddocks Hotel who supplied us with good food and hospitality. The weekend was blessed with excellent weather and many of us enjoyed a walk alongside the River Wye. Thanks to everyone who came and took part in the Swing workshop you all made it a weekend to remember.
Summer Dance 2015 – Hawaiian Theme
A fun evening was had by all, great to see everyone in their Hawaiian fancy dress – especially Anthony wearing his coconuts!! The Hula was a sight to see! Can't wait for next years Flamenco Theme.
Spring Ball 2015
What a lovely evening! A huge thanks to Rob and Linda Barnard for the wonderful music they supplied. The Ystrad Fawr Juniors Formation Team were exceptional ( 6 times British Junior Champions) as well as the wonderful Ballroom performance by Lloyd and Rebecca, British Junior Champions. We raised £161 from our raffle and this will go to Ward D4 – Stroke Unit at Ysbyty Cwm Rhondda, Llwynypia. Well done everyone and Thank you!


Medal Presentation Dance 2015
Thank you to everyone who came to our Medal Presentation Dance. It was a lovely evening and so nice to see yo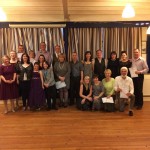 u all receive your awards which were thoroughly deserved.
2015 Amateur Awards Medal Test
This years Medal Test was another massive success! The school achieved 16 Commended, 32 Highly Commended and 28 Honours. Wow!! Congratulations to all my students and thank you for working so hard in class. I am very proud of you all. Congratulations to Hannah and thanks for all her hard work. Thanks to Sue for all her support and hard work. Thanks to all those of you who sent kind messages of support on Facebook and again to Julia Fenton who got us another Good Luck 'Shout out' on the Radio.
Christmas Ball 2014
The big event of our dancing year, The Christmas Ball 2014 was on Friday. I have had some lovely messages from you saying how much you enjoyed it – thank you. It was a belter of a night, the music performed by Dan and Linda was to its usual incredibly high standard and the dance display by the Ystrad Fawr Formation Team was exemplary – better than 'Strictly' – am I  allowed to say that? A huge thank you to you all for making it a wonderful evening. Thank you to those of you who donated prizes for the charity raffle, there was so many lovely prizes the raffle took ages! we raised a fabulous £163 which is in aid of Rookwood Spur, who work with people with spinal injuries – a very worthy cause. A big thank you to those of you that helped me on the evening, Hannah Lee, Julie Lee, Alun Martin and especially Sue Wood who was there to the very end!  Gosh I hope I have not missed anyone. A final thank you to 'my little helper' Kathryn Hill.
Halloween Fancy Dress Dance 2014
Thank you to those of you who came to our fun Halloween Dance a fabulous night was had by all. We had Ballroom and Latin dancing for the first half then DJ Rob spun his spooky tunes until midnight, the light display was wonderful. The costumes were amazing and congratulations to Dave Smith who won £50 in M&S Vouchers for wearing the best fancy dress outfit, thank you to Joe and Lis Frearson who judged the best outfit. A big thank you to you all for donating prizes and taking part in our charity raffle which was in aid of Cancer Research UK, Julia Fenton kindly accepted the donation on behalf of Cancer Research we raised £147, WELL DONE!!
2014 Medal Test – Another Great Success.
Students from Miranda Lee Dance Studios succeeded in another terrifically successful Medal Test. Congratulations to all those who took part and a huge thanks for your continued support and hard work.
February 2013 – Medal Test Success!
On Friday 8th February students from Miranda Lee Dance Studios completed another Medal Test with fantastic results! The Medal Tests are for the IDTA Amateur Awards and students from the school overall achieved 12 Honours, 14 Highly Commended and 60 Commended. The medals taken were for Ballroom and Latin in Bronze , Silver and Gold. Students have worked tremendously hard as always and thoroughly deserve their results.
Spring Medal Presentation Dance – featuring UK Professional Ten Dance Champions – Richard Still & Morgan Hemphill.
On Saturday 12th May, Miranda Lee Dance Studios celebrated their medal success with a presentation evening and were treated to a professional dance demonstration in Ballroom & Latin American dancing by the current UK Professional Ten Dance Champions – Richard Still & Morgan Hemphill. It was a truly stunning and exceptional performance, dance school members and guests thoroughly enjoyed it. Richard and Morgan are not only fantastic dancers but a lovely and  hard working couple who engaged with their audience and thoroughly deserve their tremendous success and are wished every success in the future by Miranda Lee Dance Studios, who no doubt will be inviting them back for future demonstrations.
The evening went with a bang! not only with the dance demonstration but also live music and singing (all strict tempo!) provided by the fabulous Dan Jones & Linda Barnard for a wonderful evening of dancing.
A thank you to our special guests –  Len Cattle, Commodore of Barry Yacht Club and his wife Maxine Cattle who is the Honourary Secretary of Barry yacht Club  and  Duncan Smart of First Class Dance Studios, Llanharan, along with members of his dance school.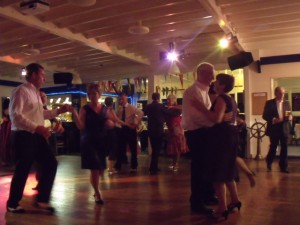 Len Cattle presented students with their medals following a very colourful speech! and accepted the proceeds of our charity raffle on behalf of the Royal National Lifeboat Institute. The evening raised a fabulous £145 for the RNLI.
Miranda would like to thank everyone who attended the dance and to give an extra special congratulations to her students who did so well achieving excellent results on their medal tests.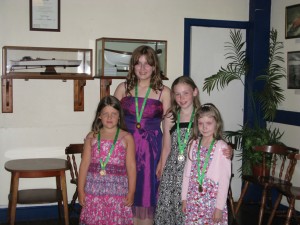 February 2012 IDTA Medal Test Success!
On February 24th, Miranda Lee Dance Studios held their second IDTA Medal Tests with superb results topping last years achievements. Students took their medal tests for both Ballroom & Latin American dancing for Bronze and Silver grades. Miranda says "I am happy and very proud to report that all my students passed with excellent results. The grades achieved were 'Commended', 'Highly Commended' and 'Honours'. These grades are representative of my students hard work in class and are thoroughly deserved." Miranda's students will continue with new routines and look forward to being presented with their medals in May. Medal Tests are optional. Special thanks to Julia Fenton who kindly got Miranda Lee Dance Studios a 'shout out' on Real Radio – wishing all students the best of luck on Medal Test day!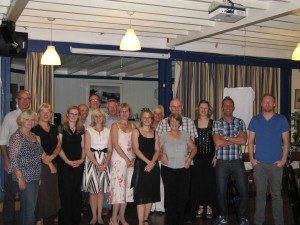 Miranda Lee Dance Studios appearance on BBC's Strictly Come Dancing – It Takes Two. 2011.
From a small number of dance schools Miranda Lee Dance Studios was invited by the producer of  'Strictly Come Dancing – It Takes Two', to participate in Len's Dance Clinic, this is a feature on 'It Takes Two' where Len answers questions about dance technique.  Miranda's students were asked to think of a question to ask Len so that the 'Strictly' crew could film them asking their question, the clip would then be screened in the 'Strictly' Studio with Zoe Ball where Len would give his answer. Miranda  says "It was very exciting and enormous fun and the film crew were wonderful, we watched the airing of  Len's Dance Clinic on Friday 9th December with much excitement!"
July 2011 IDTA Medal Tests
On 31st July 2011 Miranda's first students who attended her school from when it first opened took their first amateur dancing medal tests in  Ballroom and Latin American. "My students took their Bronze Medal in both Ballroom and Latin American with tremendous results achieving Commended and Highly Commended scores in both genres. I am thrilled for my students who deserve these grades and it is all down to their hard work and dedication in class. The medal tests are an optional part of dancing but I always encourage students to do the tests because it is so rewarding for them and a good measure of their capabilities. I am enormously proud of their efforts"

The John Dilworth Award 2010
South Wales Echo -18 July 2011
BALLROOM belle Miranda Lee Birch is dancing for joy after winning a prestigious international award.
The 35-year-old dance teacher from Barry triumphed over fellow teachers from around the globe to scoop the coveted John Dilworth Scholarship Award, run by the International Dance Teachers Association.